Project Details
Because you deserve "the best"
Still Istanbul Adoria, consisting of 199 residences, is rising in Kurtkoy. Life starts in our flats under Still Istanbul Adoria project, with floor areas varying between 54 and 214 square meters, which will raise your life standards and make you feel the real comfort.

Still Istanbul Adoria Kurtkoy offers different types of flats ranging from 1+1 to 4+1, and our project will enable you to enjoy the pleasure of both summertime and wintertime with the social facilities it will accommodate as well as the pleasure and recreational areas to be built attached to these flats.

Adoria invites you to take part in a unique experience with its activity fields good for every age and every taste...A living and breathing place since the very first day of its design process...Playfields and recreational areas to make use of freely by everyone - whether young, old, children, men, women or parents...
Being a kid at Adoria
Means having fun all day, running joyfully from swings to trampoline, climbing wall and skateboard park.
Being a teenager at Adoria
Means enjoying every moment of life from pool to cafeteria, billiard and foosball.
Living at Adoria
Means chatting with friends sometimes on the terrace and sometimes by the poolside and enjoying steam bath in Turkish Bath and sauna.
3 blocks 199 flats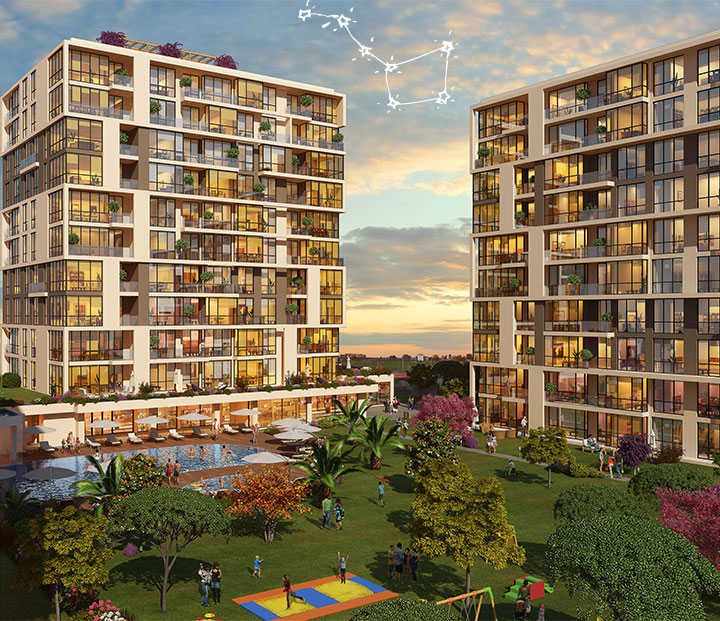 Life at Adoria is a great pleasure!
A COFFEE BREAK
For those who do not like sitting at home, who come home sick and tired of the busy traffic every day or who do not live staying away from home for so long; it is possible to belong to a different world standing just a few steps away. Taking a walk at the amazing garden of Adoria, sitting under the pergola, having a rest under the trees or shaking off the effects of a tiring day at the cafeteria or maybe catching up on your work with a cup of coffee... All of these are possible. Here we do not have boredom because we have billiard, ping pong or dart; maybe a backgammon party with the neighbors or domino, rummikub; in a word, everything. We have not forgotten about the young fellows and offered play station or Internet around the clock at Adoria. A peaceful world combining pool with garden.
AN INVITATION TO SPORTS
Activities that everyone whether adults, elderly or children would like and make use of were contemplated. The architects and designers of Yesilyurt conjured up the project in their minds over and over again. They have built project as if they were going to live there; as if they were their own houses. THEY ASKED EACH OTHER: "Let's image all together; what kind of a life would you dream of?" And they have given the answer at ADORIA.
INDOOR OR OUTDOOR, WHICHEVER YOU WISH
The jogging tracks lead to the bicycle park; get on the bicycle and all aboard for the main street... Here children love trampoline and a bit more mischievous ones are on the climbing wall. WHILE PARENTS ARE SWIMMING IN THE POOL, other neighbors who would like to take good care of their health and physical appearance are at the gym. As always, here we have also remembered the free livers who like to indulge themselves. Steam rooms and sauna...
EXCLUSIVELY FOR YOU
Here we have another facility not thought of for any other places: TERRACE BARBECUE and RECREATIONAL AREAS. We have created green terraces on the top floors of each block which have been generally kept closed so far by everyone although these floors are the most pleasant places with the best view. We imagined that neighbors make tea and have a peaceful conversation there in the evenings; that they sometimes have breakfast and sometimes barbecue there on Sundays so that Adoria cheers and livens up from tip to toe.
social
Social Facility Cafeteria Area
Fitness Center
Outdoor and Indoor Swimming Pool
Sauna and Steam Rooms
Turkish Bath
Jacuzzi
Recreational Areas
Basketball Court
Recreational Garden
Barbecue Area
Children's Playground
location
The project provides you with the opportunity to live at the heart of city life thanks to its central location in
5 minutes distance to
Sabiha Gokcen Airport
10 minutes distance to
Tuzla Marina and Tuzla Beach
10 minutes distance to
Pendik Marina and Coastal Road
walking distance to
ViaPort Shopping Mall
18 minutes distance to
Sabancı University.
For every age and every taste!
LIVE FREELY IN A PEACEFUL ENVIRONMENT THAT IS ALIVE AND BREATHING
Technical Details
| | | |
| --- | --- | --- |
| Project name | : | Still İstanbul Adoria |
| Construction Company | : | Yeşilyurt İnşaat |
| Investment value | : | 70.000.000 TL |
| Architect | : | Ayhan Yıldız - AVT Mimarlık |
| Location | : | Pendik – Kurtköy |
| Land Area | : | 10.000 m² |
| Construction area | : | 27.000 m² |
| Social facility area | : | Indoor 850 m² - Outdoor 2.240 m² |
| Green area | : | %85 |
| Landscape company | : | Temmuz Peysaj |
| Commercial area | : | N/A |
| Date of commencement | : | May 2015 |
| Date of project delivery | : | December 2016 |
| Date of release for sale | : | March 2015 |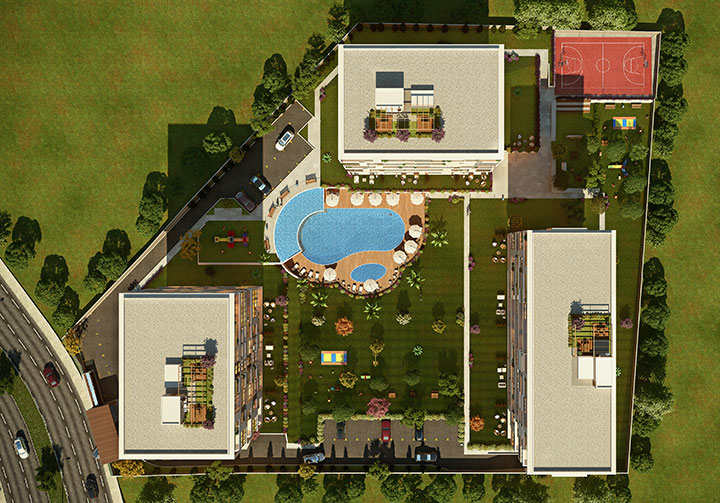 Number of residence
:
199 residences
Residential floor to ceiling height
:
2,60 m
Parking Lot
:
199 dedicated indoor parking spaces, as well as a parking lot for guests
Number of blocks
:
3 blocks
Block floors
:
Ground floor + 9 Floors
Breakdown of residences
:
1+1=44%, 2+1 open=11%, 2+1=25%, 3+1=15%, 4+1=5%
Residential floor area
:
1+1 = min.54 m2 - max.70 m²
2+1 = min.86 m² - max.103 m² (open kitchen)
2+1 = min.110 m² – max.122 m²
3+1 = min.136 m² - max.153 m²
4+1 = min.207 m² - max.214 m²
Address
Still İstanbul Adoria Kurtköy
Harmandere Mahallesi
Reyhan Caddesi No: 61/1
Kurtköy / Pendik / İstanbul - TURKEY
Fun, quiet, stylish and elegant...
A pleasant life to live all seasons together is waiting for you at Still Istanbul Adoria.
Now continue your life in a peaceful green environment.
You can see trees, parks and birds when you look through the window. What else one would expect?